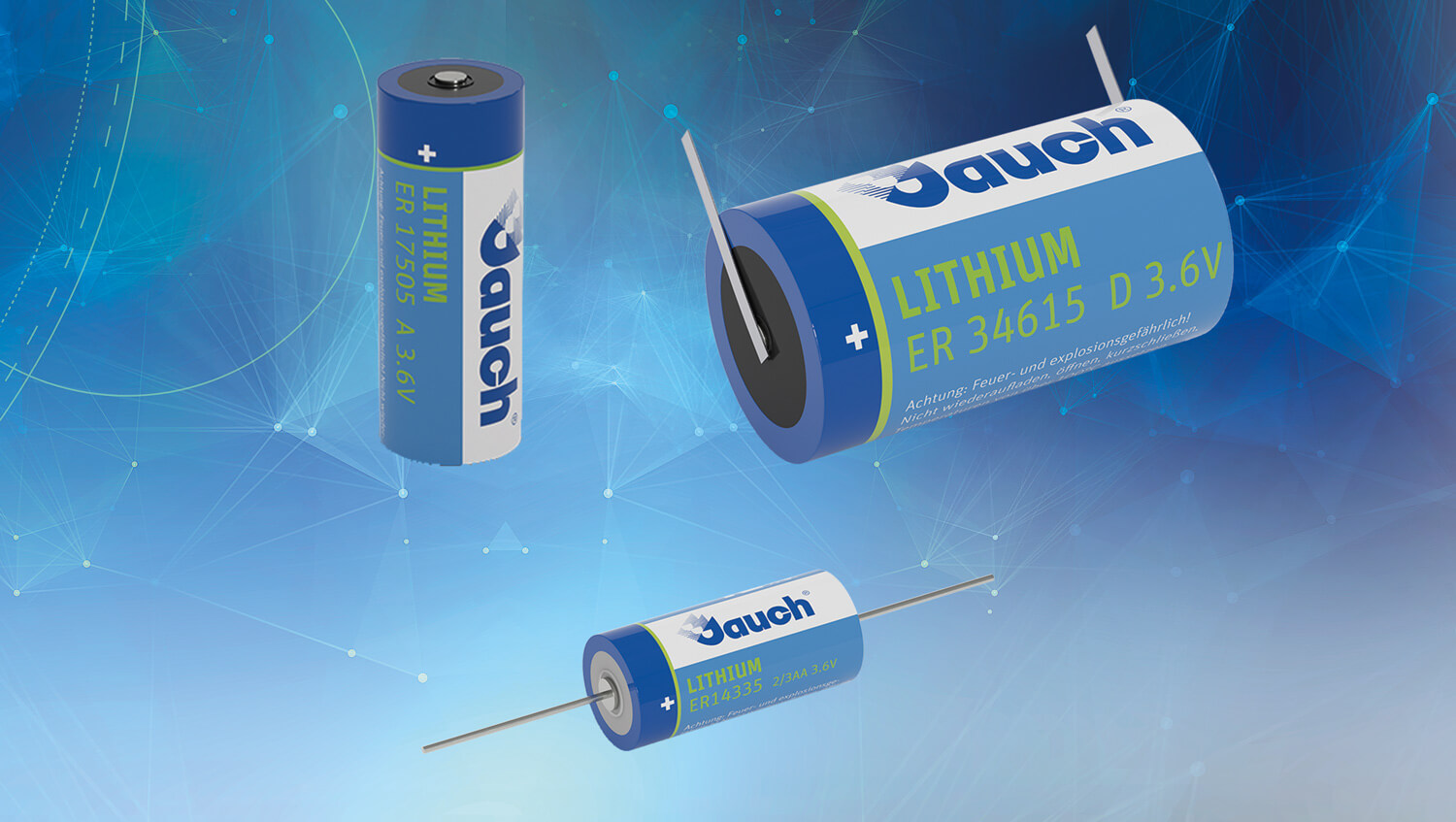 Lithium thionyl chloride batteries (Li/SOCl₂) belong to the lithium primary cell family. Unlike lithium ion or lithium polymer batteries, these cells cannot be recharged once they have been discharged. However, due to their long lifetime, this characteristic is of little importance in everyday use. In fact, lithium thionyl chloride batteries supply power to applications for several months or even years before they need to be replaced.
Li/SOCl₂ batteries have been an integral part of Jauch's battery portfolio for many years. This year, the portfolio expanded to include batteries from Jauch's own brand. The most important properties of this cell chemistry are briefly presented below.
High Voltage – High Safety
Lithium primary cells, which also include lithium iron sulfide or lithium manganese dioxide batteries, usually have a cell voltage between 1.5 volts and 3 volts. However, the cell voltage of a lithium thionyl chloride battery is significantly higher than these values: with a voltage of 3.6 volts. At this value, the battery performs to the level of lithium ion batteries. This voltage level is kept constant by the battery over almost the entire discharge period – an absolute unique selling point of lithium thionyl chloride cell chemistry.
In terms of energy density, Li/SOCl₂ batteries are also superior to all other primary cells. Values up to 710 watt hours/kilogram are possible.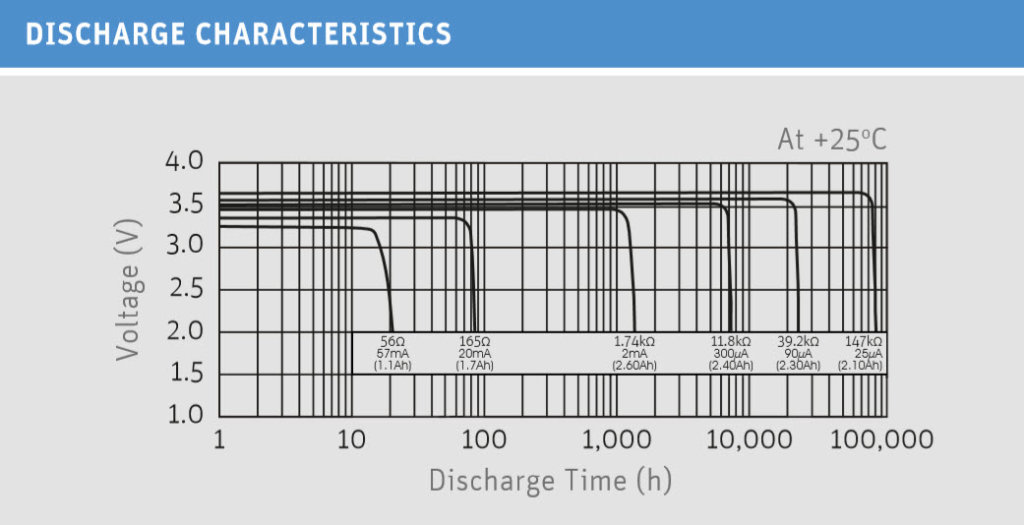 Low Currents – Wide Temperature Range
Lithium thionyl chloride batteries are used wherever low currents are required over a long period of time. Typical applications are for example locking cylinders, timers, toll systems or all kinds of metering applications. The high energy density of the thionyl chloride cells ensures that these applications can be operated for several months or even years without having to replace the battery.
Lithium thionyl chloride batteries are designed for use in a temperature range between -60 and +85 degrees Celsius. Particularly noteworthy is the performance of the cells at low temperatures. Even at double-digit minus temperatures, the cells deliver a constantly high voltage.
Passivation of the Battery
Lithium thionyl chloride batteries are very durable and have a very good shelf life. The self-discharge rate of only 1% per year speaks for itself.
The longevity of lithium thionyl chloride batteries is due to the chemistry of the cell. Unlike other lithium primary cells, the lithium thionyl chloride cell undergoes a chemical reaction between the lithium anode and the electrolyte. As a result, a protective film forms over the lithium anode, which impedes the ion flow between the anode and cathode. This is referred to as "passivation" of the battery cell.
This phenomenon has advantages and disadvantages. On the one hand, passivation is responsible for the low self-discharge rate of the battery. On the other hand, the resulting protective film initially impedes the current flow when the battery is put into operation. The protective film gradually fades away as the battery continues to operate. However, it forms again as soon as the battery stops drawing current. For this reason, lithium thionyl chloride batteries are particularly suitable for applications with low power consumption. The power requirement of the application can be constant or pulse-shaped.
The Bobbin-Type Cell Construction
Lithium thionyl chloride batteries are available in numerous sizes and designs. No matter what variation your application requires, the core properties: high voltage, high energy density and long life, stay the same.
The "Bobbin-type" construction has established itself as the most frequently used cell construction method. This design, which is also used in the cells of Jauch's thionyl chloride batteries, is characterized by a high level of safety and a long service life. These batteries deliver currents of up to two Amperes.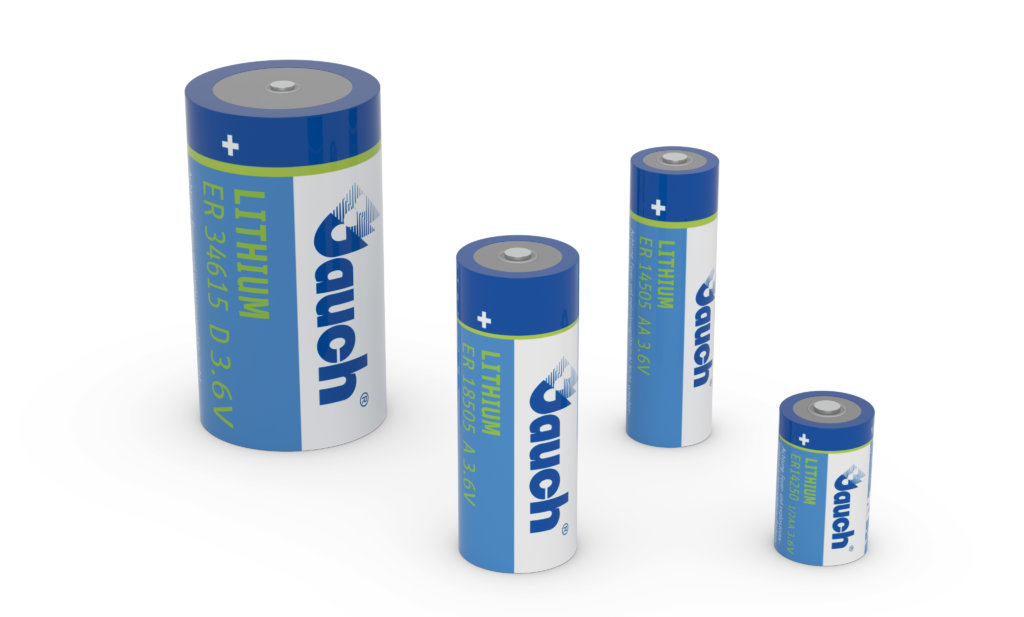 Jauch's battery portfolio includes various Li/SOCl₂ batteries. An overview of the entire Jauch portfolio of lithium thionyl chloride batteries can be found here.
Our battery experts will be happy to advise you on which of these cells is best suited for your application. Equipped with the expertise from countless successfully completed projects, our experts will also find the perfect solution for your requirement profile and will advise you on request directly at your site.
You already know what you need? Then order your samples here!
---