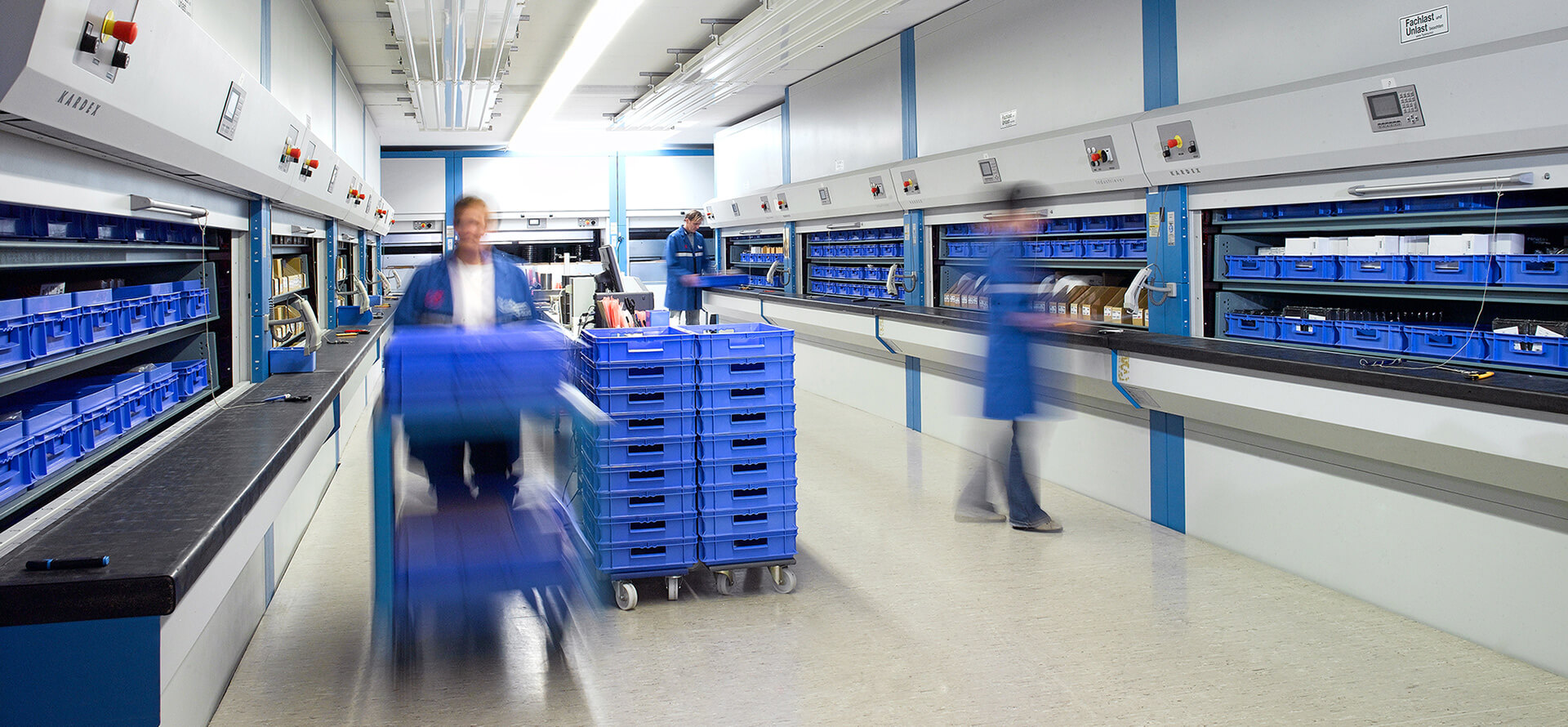 24 million quartz crystals, oscillators and MEMS components are stored at the Jauch Headquarters in Germany, on average of course! This makes the medium-sized company from the Black Forest one of the world's largest warehouses for frequency control products. The main advantage of the large stock is speed. Often, components from Jauch's broad portfolio are already in stock. Frequently, we find customers receive their products only a few days after placing their orders.
Modern quartz crystals and oscillators are only a few millimeters in size and are inserted into a narrow plastic band for storage. The band is then sealed with clear tape and wound up in a similar way to an old-fashioned roll of film. This packing unit type is commonly referred to as "tape and reel". Depending on the size of the component, such a roll can contain up to 5000 pieces. These rolls are stored in Jauch's modern paternoster warehouse, which extends over two floors.
Intelligent SAP Control
In addition to quartz crystals and oscillators, around six million batteries and battery cells are stored in Villingen-Schwenningen. Obviously, an intelligent system is needed to manage this mass of 30 million components; for this reason, both the warehouse and the connected shipping center are completely SAP controlled. If a roll of components is removed from the warehouse and shipped, this is immediately recorded digitally. Thus all employees are informed in real time about the current inventory.
Fast delivery is ensured not only by the modern warehouse, but also by our own logistics center. Several hundred million components are moved, year after year, and shipped all over the world- by road, rail, sea or air freight. Of course, special attention is also paid to the safety of the freight as lithium batteries are classified as hazardous goods. So, these shipments require special attention from the shipper. Accordingly, all Jauch shipping employees are trained and certified in accordance with IACO-TI and IATA guidelines.
Worldwide Logistics
The Jauch strategy of short delivery times due to large stock also benefits our subsidiaries in Great Britain, USA and Mexico. These subsidiaries have additional storage capacities to make sure that customers receive their desired products as fast as possible.