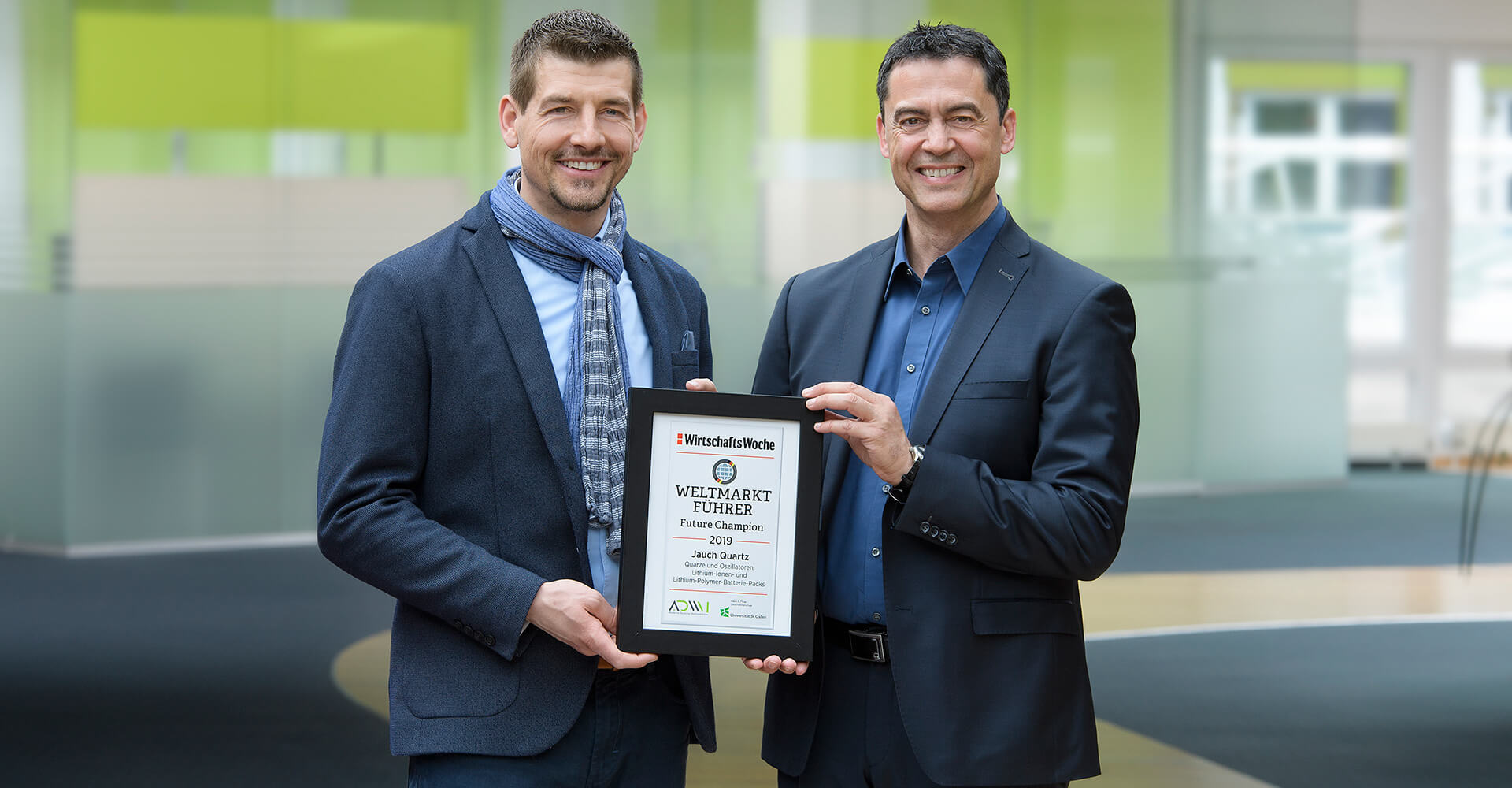 Jauch, a global market leader? This is still a distant goal, but the potential is there! At least that's what Prof. Dr. Christoph Müller says. Müller teaches at the HBM Entrepreneurs School at the University of St. Gallen and is an expert for global market leaders among medium-sized companies. In cooperation with the German economic journal "Wirtschaftswoche", Müller creates an annual index of all global market leaders from German-speaking countries. In addition, based on his analysis Müller names those companies that he believes will become global leaders in the medium run. Jauch Quartz GmbH from Villingen-Schwenningen is now ranked among these "Future Champions".
"When we first heard about the award, we were all stunned. Of course, we are aware of our strengths, but we were not aware that Dr. Müller was considering Jauch in his analyses. The fact that we are doing so well in this independent study is of course a great confirmation of our work so far," says Daniel Panzini, member of Jauch's Board of Directors, delightedly.
Four major criteria are decisive for inclusion among the "Future Champions". Firstly, companies must be owner-managed and have their Headquarters in German speaking countries. Secondly, they must be active on at least three continents, be it through their own production facilities, commercial branches or exports. Thirdly, a turnover of between 5 and 50 million euros is required. And finally, the companies rank first or second in their industry in an international comparison.
Excellence in Frequency Products and Lithium Batteries
Dr. Christoph Müller and his team determined Jauch satisfies these standards. Taking a closer look, this is hardly surprising. The family business, founded in 1954, has long been one of the leading producers of "frequency control products". This somewhat unwieldy term indicates quartz crystals and oscillators that define the frequency in many electronic applications: cars, laptops, telecommunication devices and more. The second product portfolio, battery technology, has been developing since 1976. The emphasis of lithium technology, in house testing equipment and a strong engineering team in Germany sets the course for international excellence. Jauch's global presence is ensured by its sales subsidiaries in Great Britain, France, the USA and, most recently, Mexico.
So, what happens next? Steffen Fritz, also a member of Jauch's Board of Directors, has a clear vision: "We know our potential. However, development will not take place by itself but will require hard work instead. I am optimistic that we will continue on our path and Dr. Müller and his team will hear from us more often in the future.